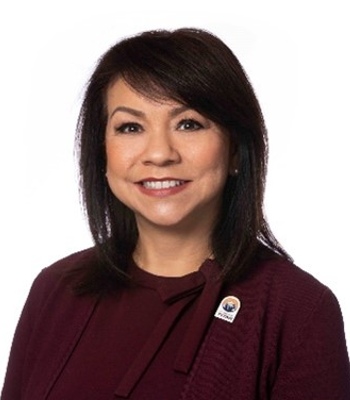 Elva Rubalcava
Associate VP/ Government and Community Relations

As Associate Vice President, Government and Community Relations representing Cal State Fullerton, Elva provides collaborative leadership in establishing and maintaining strategic relationships with elected officials, government agencies and nonprofit/community/business organizations to advance the University's educational mission and its role as an intellectual and cultural center. In this role, she leads a team that promotes broad-based advocacy at the local, regional, state and federal level to support partnerships, grow funding streams and demonstrate the University's integral role and impact on the region.
Prior to joining Cal State Fullerton, Elva spent 10 years at the Disneyland Resort as part of the Public Affairs senior management team where she and her teams were focused on maintaining and enhancing the reputation of the Resort, developing and implementing corporate citizenship, issues management, and communications strategies ensuring mutual benefit for the community and the Resort.
Her broad-based experience includes serving as the executive director of the Luevano Foundation as well as representing Southern California Edison as a Government Relations Region Manager in both Orange County and the Inland Empire. Elva currently serves on the boards of the OC Forum and the Hispanic Chamber of Commerce of Orange County as Chair-Elect. She has also previously served on the boards of Taller San Jose Hope Builders, the National Hispanic Business Women's Association, and the advisory boards of the American Indian Chamber of Commerce and the Vietnamese American Chamber of Commerce of Orange County. Elva has been recognized as a "Persona Notable" in Para Todos Magazine, as Corporate Advocate of the Year by the Asian Business Association of Orange County and as Corporate Woman of the Year by the NHBWA.
Elva and her husband reside in Yorba Linda and are the proud parents of a son and two daughters.